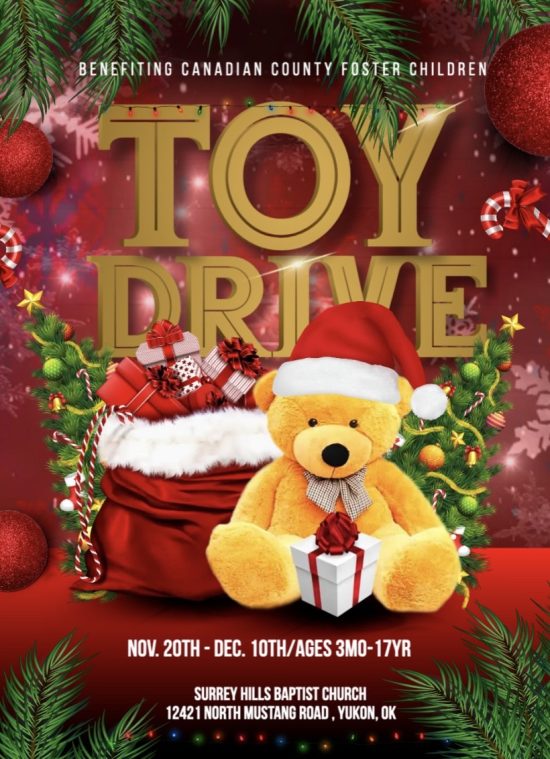 Surrey Hills Baptist Church Annual Toy Drive helps bring some holiday cheer and good spirits to foster children and their families! We have again partnered with Canadian County CASA Volunteers this year to help us distribute the toys to the children in Canadian County foster care.
When should I donate?
Our toy drive will last from Sunday, November, 20th thru Sunday, December, 10th
What should I donate?
Children in foster care range from 1 day old to 17 years old. There is a huge need for gifts spanning all of these ages, any gift would be wonderful. That said there is always a special need for ages 12-17, as these older children can be overlooked when we see the vibrant packaged toys aimed to meet the eyes & excitement of a much younger demographic. If you're interested in shopping for a teenager this year, consider getting some ideas from your daughter/son or niece/nephew. Perhaps you could enlist the help of our own teen youth group in getting some gift ideas as well.
Way to get involved:
Set up a Collection Bin at your office or school – we'll email you a jpeg with the signage!
Collect toys & gift cards at your company holiday party
Ask family & friends if they would like to donate a toy
Take your children/grandchildren shopping for a child in need
***There will be a donation box in the foyer to leave your donation. If you'd like to have someone else purchase the gifts on your behalf, you're welcome to gift a monetary donation. Please leave all cash or gift card donations with Kristin or Pastor Doug at the front office.
Thank you for blessing & loving these children . . . for Jesus Loves the Little Children